Bert

Bert on the rooftops.
Vital statistics
Gender
Male
Bert is a jack-of-all-trades. He is an old friend of Mary Poppins and is featured in the opening scene of the Mary Poppins Disney film, along with other various scenes. He is also the narrator, introducing the audience (breaking the fourth wall) to the Banks' neighborhood.
Bert is played by Dick Van Dyke. He has a large number of odd jobs, including a screever, one-man-band, chimney sweep, matchstick seller, and kite seller.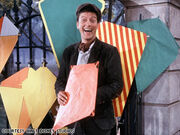 Ad blocker interference detected!
Wikia is a free-to-use site that makes money from advertising. We have a modified experience for viewers using ad blockers

Wikia is not accessible if you've made further modifications. Remove the custom ad blocker rule(s) and the page will load as expected.