Welcome to the Mary Poppins Wiki
Mary Poppins, the Musical

Edit
Mary Poppins, the musical is playing at the New Amsterdam Theatre in New York City. The musical was produced by Disney and Cameron Mackintosh and combines the original P.L Travers Mary Poppins stories with the Disney version including memorable songs ("Chim Chim Cher-ee," "Let's Go Fly a Kite," "Supercalifragilisticexpialadocious").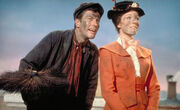 Mary Poppins is Practically Perfect in Every Way

Edit
Julie Andrews starred along side Dick Van Dyke in the Disney adaptation of Mary Poppins. Mary Poppins was originally a series of books written by P.L Travers about a magical English nanny who bring fun, exciting adventures to the Banks residence at Number Seventeen Cherry Tree Lane.
She carries with her a magic carpet bag with an endless supply of treasures. Among them, a heal all elixir that changes flavors and a measuring tape which is used to gauge how Jane and Michael Banks 'measure' up. As expected, Mary Poppins height on the measuring tape is labeled "Practically perfect in every way".
Mary Poppins Awards

Edit
Disney's Mary Poppins film was nominated for 12 and won 5 Oscars in 1965. Julie Andrews won Best Actress in a Leading Role as Mary Poppins. The film also won Best Special Visual Effects (Peter Ellenshaw, Hamilton Luske, Eustace Lycett), Best Film Editing (Cotton Warburton), Best Music, Original Song for Chim Chim Cher-ee (Richard M. Sherman, Robert B. Sherman) and Best Music, Score (Richard M. Sherman, Robert B. Sherman).

Among the 12 Oscar nominators were Best Picture, Best Costume Design and Best Director.

Julie Andrew also won a Golden Globe for her role as Mary Poppins in 1965 for Best Motion Picture Actress in a Musical/Comedy. Dick Van Dyke was nominated for a Golden Globe that year for Best Motion Picture Actor in a Musical/Comedy as Bert in Mary Poppins.
How Well Do you Know Mary Poppins?

Edit