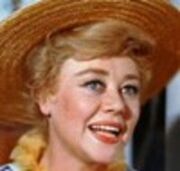 Mrs.
Winifred Banks
is played by
Glynis Johns
in the Mary Poppins Disney film. Winifred Banks is wife to Mr. Banks and mother to Jane and Michael. She is very active in protesting for the Women's Votes suffragette movement and carries blue and white
Women's Votes
sashes with her which she hides from Mr. Banks as the cause
infuriates
him (it can be assumed that it makes him angry simply because that during the time period of the movie, women were thought as not as intelligent as men). At the beginning of the film she sings about
Sister Suffragette
to the Banks' staff. Mrs. Banks hires the original nanny,
Katie Nanna
, who decides to vacate the position after the children run away for the fourth time in one week.